Mini-Lawns For Your Pets – Perfect for Backyard-less Homes
NOTE!!! The discount code is in this post. :) Read the entire post :)
Do you happen to live in an apartment or residential complex where having a backyard is such a luxury, and you happen to own pets of all sizes? We are talking about rabbits, hamsters in cages, cats, and dogs that are cramped in your home and have no access to a lawn where they can relieve themselves. Moving to a new place with a backyard is not the solution to that.
DoggieLawn
is the answer to that!
DoggieLawn
is not just for dogs, mind you! They make mini-lawns even for your tiny critters such as rabbits and even hamsters so they too can enjoy a good place to walk or hop around and use the mini-lawn to relieve themselves.
These mini-lawns come in many sizes to even your large dogs can enjoy this green patch you can easily install at home.
For dogs:
another size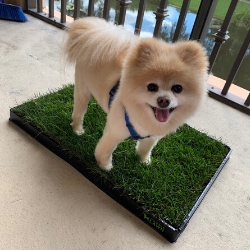 For tiny pets:
or this one
You can check this cute
Hamster Lawn
too for your cute hamsters.
DESCRIPTION
Petite Size: 12 x 9 inches.
Grande Size: 24 x 9 inches. Perfect for hammies who want more room to roam.
Hydroponically grown outdoors at a sunny sod farm in California.
Keep it indoors (or out) and mist occasionally to keep the grass thriving. 
Natural and disposable.
What is DoggieLawn?
DoggieLawn was created as a simple and convenient indoor dog bathroom solution for your pet dogs. It is like a pee pad but grass. :)
DoggieLawn's grass is specially formulated, hydroponically grown grass designed to work perfectly as an indoor dog potty, a porch potty for your dog, or outside on your balcony as a fresh potty patch. The grass for dogs and puppies weighs slightly more than one-half as much as standard sod for easy lifting and is "soil-less" which means it contains none of the dirt you find in sod sold in home improvement stores. Try this indoor puppy potty out and see for yourself how much you and your dog (and even your smaller critter pets) will love having their own convenient fresh patch of grass for bathroom breaks!
This code is only good for the first subscription.
Oh, before I forget, of course, little kitty has a DoggieLawn too!
Go ahead! Get the subscription now and enjoy your savings for your first subscription. And let your pets enjoy their own grassy patch to relieve themselves even while at home. That will save you the hassle of having to take your pet out for a pee especially on a rainy or cold day.
Disclaimer:
This post contains affiliate links. I will get a small commission when you decide to purchase using my links at no extra cost to you.
{ "slotId": "6480391486", "unitType": "responsive", "pubId": "pub-5970883074900190", "resize": "auto" }
---