Crafting At Home During Lockdown
** This post contains affiliate links. I will get a wee compensation when you make a purchase from my links. Thank you.**
Do not be discouraged if you are staying at home due to the lockdown imposed by governments of many countries all over the world. It may be cumbersome for most people especially those who are working, while others will take this downtime an opportunity to let their creativity soar. 
Doing arts and crafts is one of the best past times you can do to enjoy the lockdown when you are done with your usual 8 hours work-from-home imposition by your company. And after that, you can unwind and make beautiful crafts if you want to and if you don't have anything else to do, or if you want to engage the little ones to join the fun and hone their own creativity.
Here are a few nice things to craft while at home:
Greeting and holiday cards
If you happen to have nice patterned papers or leftover gift wrappers then use them to create cards at home. There are specialized paper cutting machines that can cute intricate shapes and designs to give your handmade cards some oomph.   If you are planning to get one, now's the right time to buy since Cricut is having an April Fool's day sale for some of their paper cutting machines and accessories. Save 40% off Select Machine Tools! Valid through 3/31.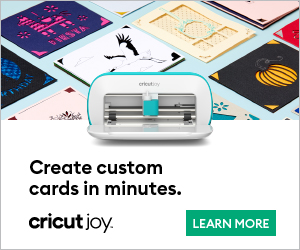 And if you are stuck and have no idea what to put on your handmade cards, head on to Cricut's Project Center.
Digital arts
Do you have a tablet and have a talent in doodling and lettering or drawing? how about creating digital art using some apps available in your operating system? 
The Hungry JPEG is one of my favorite sites to get my illustrations, vectors, fonts, and other digital stuff that I can play with and create amazing artworks.  Get advantage of the SALE!! The Ultimate Lettering Bundle by Lettering_Logo! Comes complete with 43 wholesome packs with over 1000+ lettering normally priced at $476, you can get it at a special price of $22 only at the TheHungryJPEG.com by using this code: 
20UL
The above sale is only running until April 12, 2020, so while you are at home and have so much time to work on the creative stuff, now's the time to avail of this amazing lettering bundle!
Sewing projects
I used to make small pillowcases when I was young and would make my own using the cute patterned cotton fabric. If you are a skilled sewer and can make dresses or other stuff using the sewing machine, why not make your own garments or even that of your family? You may even make for other relatives or friends or make enough that you can sell them later on when all these lockdown things are over. You may also want to make Halloween costumes so you save money when Halloween comes, and your costumes are ready!

---