Create Indoor Potty Space For Your Puppy
** This post contains affiliate links. I will get a tiny compensation when you make a purchase. Thank you.
Getting a puppy is a big responsibility. It is like having another baby at home because you need to commit to care for it, and even potty train it too. Having a puppy is also one of the best things in the world to experience since you are exposing yourself and your family to the loyalty and unconditional love your puppy will give.
It is also fitting that you give your puppy the love and care it deserves by providing it a clean potty space in your home. Yes, you have read that right. Even inside your home… Not every homeowners have the luxury of outdoor space so this indoor potty space is possible with DoggieLawn.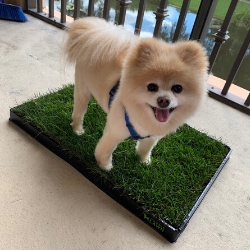 The DoggieLawn is your puppy's very personal bathroom that is real grass and easily installed inside your home. It is like your dog's Natural indoor puppy potty. It is a great solution for small spaces or apartment living. The grass patch helps your dog do its business indoors without you having to worry about the cleanup or lingering smell of dog pee.
It comes in various sizes to accommodate various breeds and your growing pup!
Standard (24 x 16″): For dogs under 15lbs.
Medium (24 x 20″): For dogs up to 30lbs.
Large (24 x 24″): For dogs up to 50lbs.
XL (24 x 48″): For dogs 40lbs and over or multiple dogs.
You can order this at DoggieLawn and they have various subscription plan to help you maintain your fresh grass for your pooch. And you can use this code for a $5 off on your first subscription order. This code will expire on 31 Dec. 2020.
Order here: DoggieLawn
Use this code: Affiliate5
Oh, it also has free shipping! Get your DoggieLawn now!
{ "slotId": "6480391486", "unitType": "responsive", "pubId": "pub-5970883074900190", "resize": "auto" }
---