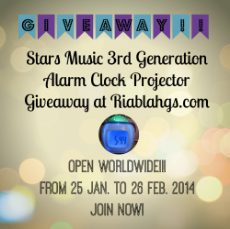 I am hosting a giveaway in my other blog, It's My Party from 25 Jan. to 26 Feb., 2014 (12mn, Dubai time, +4 UTC). The entries are very simple and not much. This giveaway is open worldwide so everyone can join.
1 winner of Stars Music 3rd Generation Alarm Clock Projector will be chosen at the end of the giveaway.
Terms and conditions apply.
Please feel free to visit my It's My Party blog for the details and visit www.Tmart.com for more info on the product.
Wait for the entry form to load below.